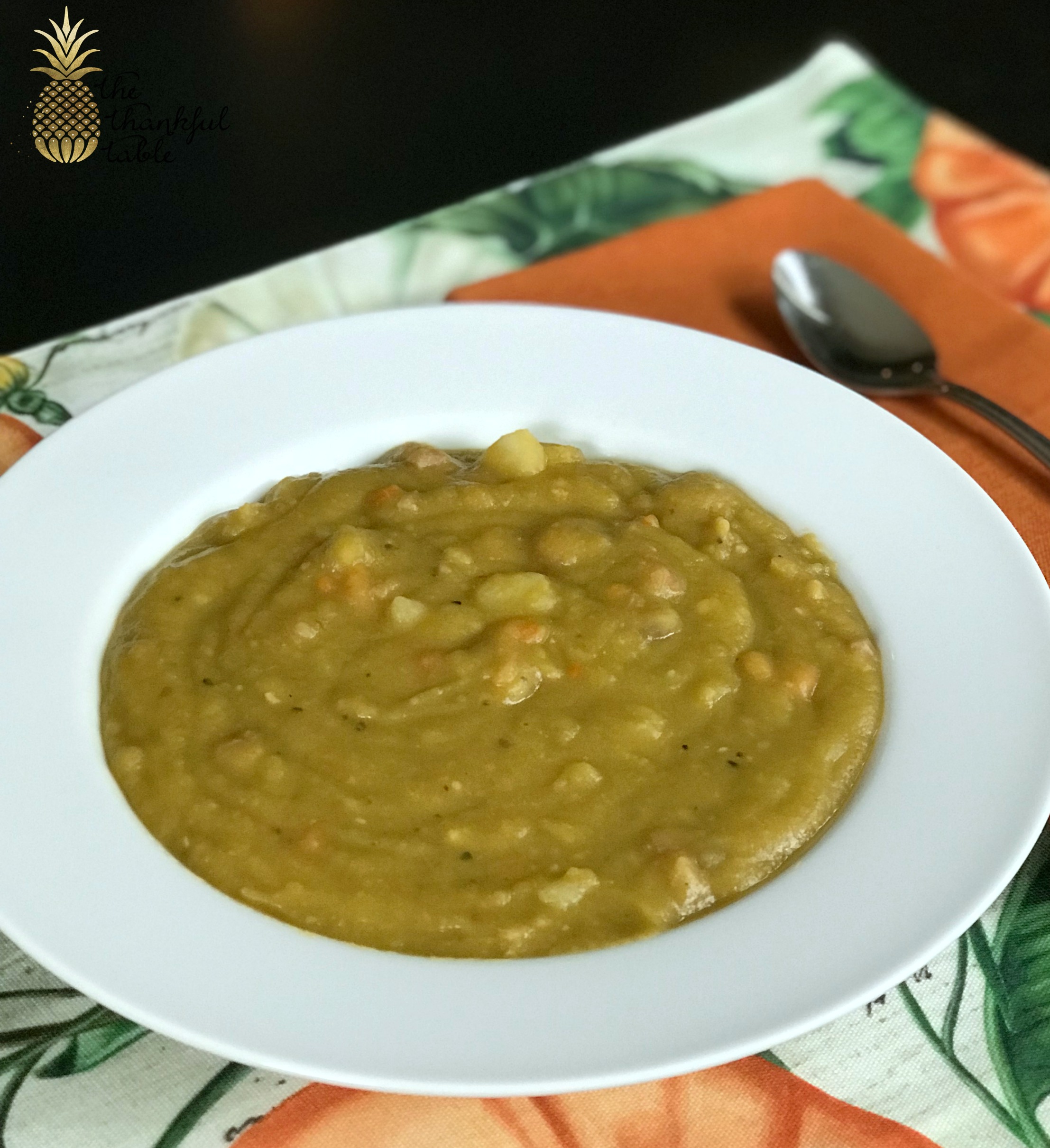 Fall is such a beautiful time of year. From the leaves turning color in our beautiful Mitten state, to apple-picking, it just doesn't get much better than this. I love our four seasons and wouldn't trade them for anything. We finally have reached typical fall temps…FINALLY!! Yes, I love summer, boating, etc., but the cooler weather just makes for lots of coziness (that is a word in this house). Soup is always a hit in our house, and once it cools down outside, my baking/soup-making/blogging self goes into high gear. I am pretty certain that by the end of November, my poor tribe has had enough of pumpkin in any way, shape or form. But, I shall soldier on…because I just can't help myself. Too many delicious recipes floating around out there that I just must try/test. I have been making this soup for a couple of years, and though it's not at all pretty (or maybe even appetizing…especially if you are not a pea-lover) to look at, it is comfort food at it's finest in the soup world, IMHO. It doesn't take long at all and is not difficult in the least. It makes an 8 quart pot, but is super easy to convert to 4 quarts for those of you who have the ability to cook for the actual number of people you intend to feed, unlike me…I just can't do it…feed an army I shall! But honestly, this is just as good, maybe even better, heated up the next day or two. Give this a try and let us know what you think! Happy Fall friends!
Sláinte!
Servings

Prep Time

8

Quarts

15

Minutes
Servings

Prep Time

8

Quarts

15

Minutes
Servings

Prep Time

8

Quarts

15

Minutes

Servings

Prep Time

8

Quarts

15

Minutes
1/4

cup

vegetable oil

1 1/2

cups

chopped onion (yellow or white)

2

teaspoons

minced garlic

12

cups

chicken broth

4

cups

Water

2-16

ounce bags

split peas

(they can be found in the bean aisle typically)

6

cups

diced ham

5

medium

russet potatoes

peeled, diced

4

cups

carrots

diced

1

teaspoons

oregano

salt

to taste

black pepper

to taste
In 8 quart stock pot, heat oil and sauté onion and garlic on medium heat until onions are translucent, about 8-10 minutes.

Add chicken broth, water, split peas, ham, potatoes, carrots and oregano. Bring to a boil. Reduce heat to low and simmer uncovered for 90 minutes, stirring often to prevent scalding on bottom of pan. Skim foam off the top during cooking.

Season with salt and pepper to taste, serve hot.
Welcome!
Please join us as we enjoy our time together in the kitchen and create wonderful, delicious meals for those we hold near and dear to our hearts...Our family and friends. We believe that cooking should be an adventure and eating should be an event. So, let the adventures begin!
Subscribe to Blog via Email
Categories
Recent Posts
Recent Comments
Goodreads