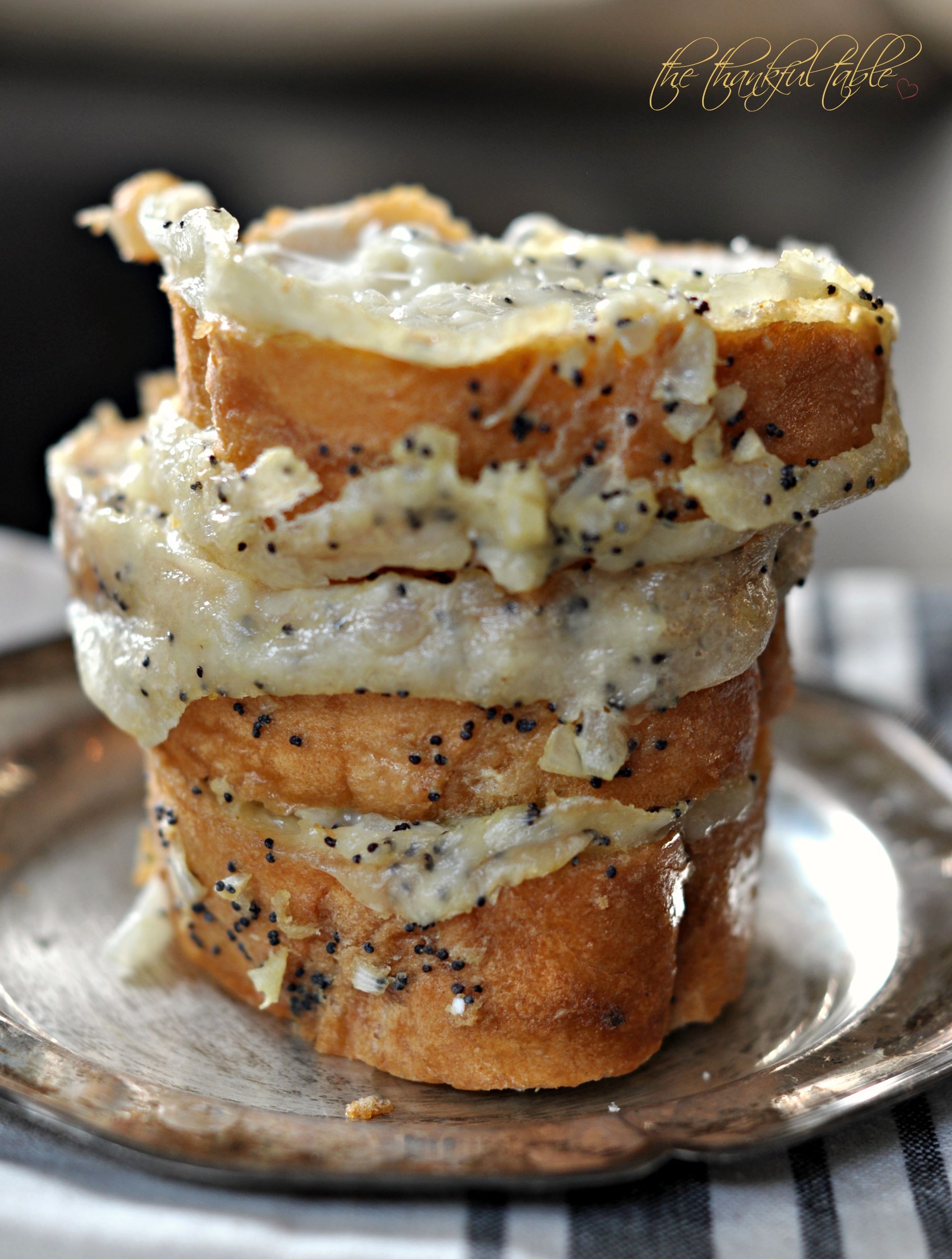 What is it about a steamy loaf of freshly baked bread, oozing with cheese…or butter…or both…that sends my senses into overload and leaves my stomach growling and my mouth salivating like a mad dog?  Ahhhhh the aroma is indescribable!  It's Heaven on earth.  A lot of meals make me think that.  And I am certain I have said that in previous posts (and I know full well I will in the future).  But it's true.  We.  Love.  Food.  And we love to cook/bake and spend time together in our kitchen.  THIS little gem of a recipe came to me years ago from a friend.  I have no clue why it's just called "Hot Bread" because there is a lot of yumminess going on inside this loaf of deliciousness.  It really should be called "The Most Amazing Delicious Bread That Is Loaded With Butter And Cheese And Other Good Stuff".  A bit long winded?  I suppose so.  So…Hot Bread will have to suffice.   A meal just isn't complete without bread in my opinion.  It can be a simple roll or biscuit, or you can take it to the next level with THIS creation!  It could be a meal all by itself (and perhaps it has been with our family?  Hmmmm).  It also would be great as an appetizer.  It's easy to make and the flavors of swiss cheese, gobs of butter, lemon juice and Dijon mustard are just the best everrrrrr.  And, like so many of our recipes, you can add or subtract ingredients, and you still have a phenomenal accompaniment to your meal.  Perfecto!
 With this bread, being filled with so much cheesy/buttery goodness, you might want to serve it with a lighter meal.  Or not.   It's perfect paired with a salad, however, we have also had it with pasta.  Or, as I said earlier, you can eat it all on its own!  Either way, it is ridiculously divine.  It makes PLENTY for a get~together, and you can also make half a loaf if it's a small crowd.  This bread is best right out of the oven (it gets a bit soggy when reheated but still tastes yummy).
Sláinte!
1

loaf

French Bread

8

Tablespoons

melted butter

1

small

onion, chopped

1

Tablespoon

Dijon Mustard

2

teaspoons

Lemon Juice

1

Tablespoon

Poppy Seeds

1/2

teaspoon

salt

7-8

slices

Swiss Cheese
Preheat oven to 325 degrees

In small saucepan, melt butter. Add onion, dijon mustard, lemon juice, poppy seeds and seasoned salt. Stir together.

Cut bread into slices, but not all the way through.

Place one~half slice of swiss cheese into each pocket (slice).

Set bread loaf in foil boat (tear off large piece of foil, fold edges up and around loaf to resemble a "boat").

Spoon butter mixture into each pocket with a tablespoon, then pour remaining butter over top of loaf.

Bake at 325 degrees for 30 minutes.
Subscribe to Blog via Email
Categories
Recent Posts
Recent Comments
Goodreads