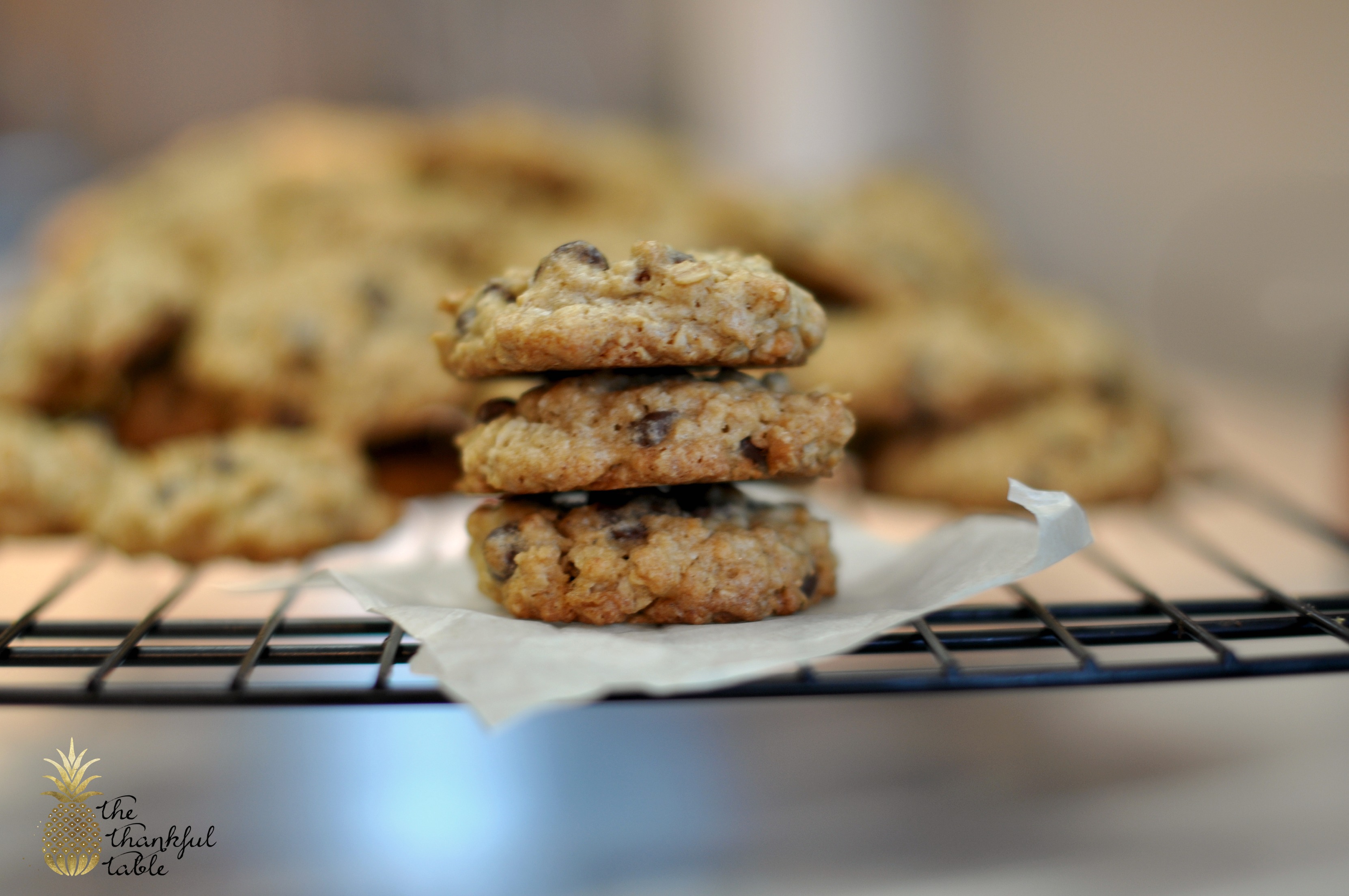 Chocolate chip cookies are by far, my all~time favorite cookie in the world. I liked oatmeal cookies somewhat as a little girl, and reason being as to why I did not love them was the dreaded raisins. Ugh. I have never ever ever liked raisins. Ever. And to throw them into a cookie? That's cookie cruelty (just my opinion here). I'm not judging, just stating my palate's preference. And my palate prefers to be nowhere near a raisin. I am curious to know how many people either like or dislike them. It would be fun to start a poll…A~like them, or B.~are you kidding me? Two choices~pick one.
I found this recipe in the Penzeys catalog we get in the mail.  I cannot for the life of me find it online to link to the exact recipe and the catalog is long gone.  But trust me, this is a keeper for sure. Omit the raisins (if you prefer), add chocolate chips or whatever else your little heart desires, and you have yourself oatmeal cookie perfection. These are loaded with chocolate chips, nutmeg and lots of oats which make for a delicious cookie. I would have loved to have added pecans, but our youngest Ty, is deathly allergic to tree nuts. So we do not keep them in our house and we are fine with that. Enjoy!
Sláinte!
1 1/2

cups

flour

1/2

teaspoon

salt

1

teaspoon

baking soda

1/4

teaspoon

Penzey's nutmeg

1

cup

butter

(softened)

1

teaspoon

Penzey's pure vanilla extract

1

cup

brown sugar

3/4

cup

granulated sugar

2

eggs

3

cups

oatmeal

(quick cooking)

2

cups

semi~sweet chocolate chips
Servings:
cookies (approx)
Preheat oven to 350 degrees.

In medium bowl, sift together flour, salt, baking soda and nutmeg. Set aside.

In stand mixer fitted with paddle attachment, cream together butter and vanilla.

Add brown sugar and granulated sugar and beat until fluffy, about 2-3 minutes.

Beat in eggs one at a time.

Slowly add dry ingredients and mix until just combined.

Fold in oats and chocolate chips.

Drop by teaspoonful onto parchment~lined cookie sheet.

Bake for 14 minutes (depending on your oven). Halfway through, rotate cookie sheet.

Cool for 2 minutes and transfer to cooling rack.
Subscribe to Blog via Email
Categories
Recent Posts
Recent Comments
Goodreads