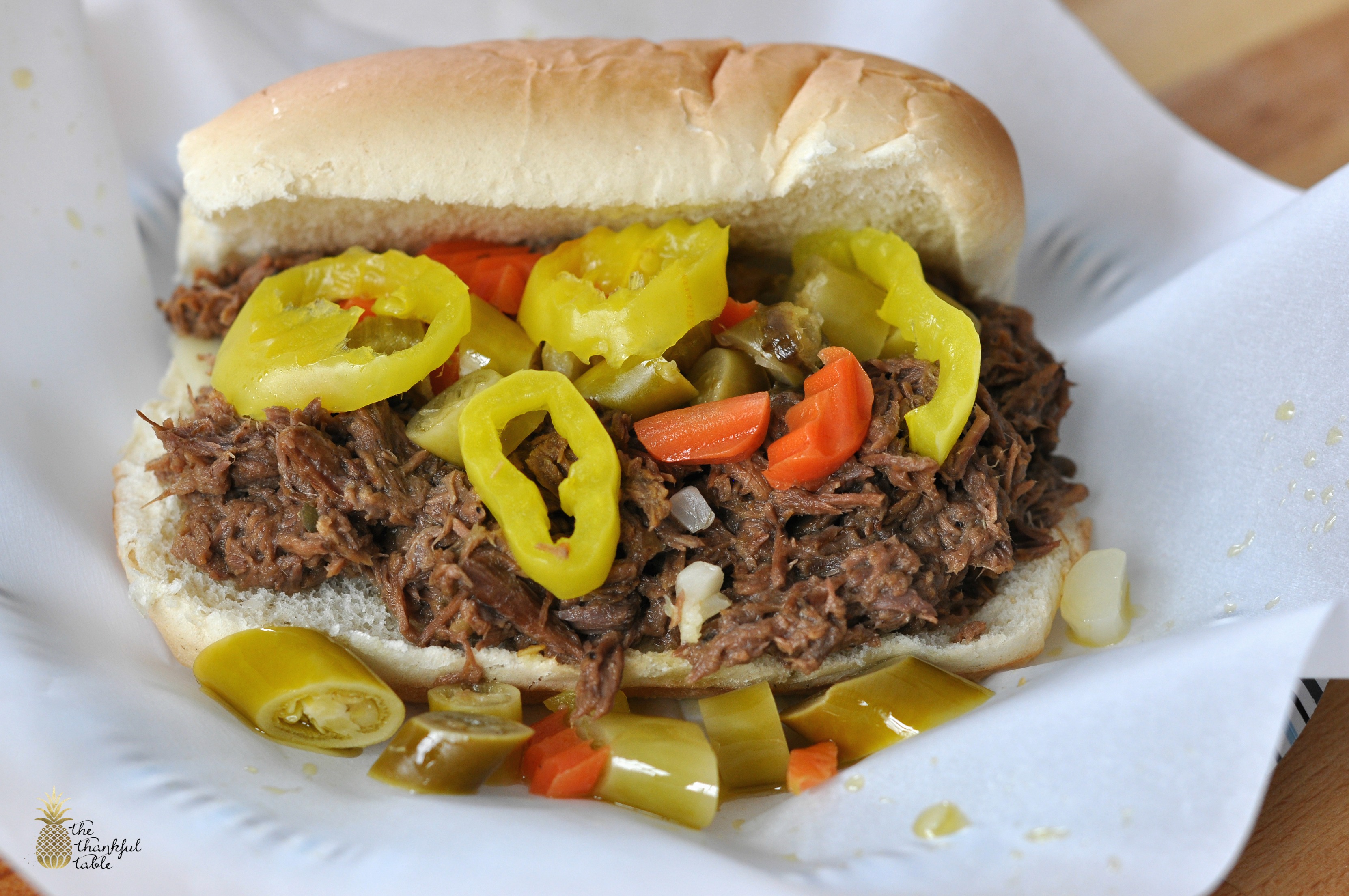 Last year, Joe and I were returning from vacation and had a layover in Chicago. We were hungry, and he had been telling me about this eatery in the airport that had the BEST Italian beef sandwiches. So, we ordered up our food, he the Italian beef, and I my usual~grilled chicken. Our food came, and was I ever sorry that I didn't order what he did. It was the most delicious, hearty sandwich I think I have ever seen or tasted. Of course he obliged when I asked for a bite and the second it hit my mouth, I think my taste buds exploded. It was so good and hearty, and the flavor was just out of this world. This recipe is easy because you throw it all in a crock pot, and walk away for 8 hours. The one ingredient that makes it so fabulous, aside from the banana peppers, is the Hot Giardiniera. It's a delicious combination of carrots, cauliflower, celery, gherkins and Serrano peppers, all bathing in a tangy mixture of vinegar and spices. Yum!! Throw that in with the roast, beef broth and zesty italian mix, and you have yourself an easy delicious meal! Add provolone cheese and a hoagie bun and be ready to enjoy to your hearts content! And a side note, they taste even better on day two!
Sláinte!
3 1/2

pound

eye of round roast, fat trimmed

(chuck roast is also good)

1 1/2

cups

beef broth

1

packet

dry zesty Italian dressing mix

1

cup

hot pepper rings plus 1 tablespoon juice

1

cup

hot giardiniera plus 1 tablespoon juice

(they also have mild)

provolone cheese slices

hoagie rolls
In a large crock pot, place beef. Sprinkle dressing mix, then add broth. Top with pepper rings and Giardiniera and juices of both, stir a bit to incorporate.

Cook on low for 8 hours, until meat is tender and shreds easily. Shred with a fork and cook and additional hour.

Cut rolls in half, place 1 slice of provolone cheese (cut in half) on bottom (or top if soggy bread doesn't bother you), then add meat mixture. Top with additional pepper rings and Giardiniera if desired. Serve warm.
Subscribe to Blog via Email
Categories
Recent Posts
Recent Comments
Goodreads