August 29, 2017
/
by Tina (the thankful table)
/
in Uncategorized
/
Post Comment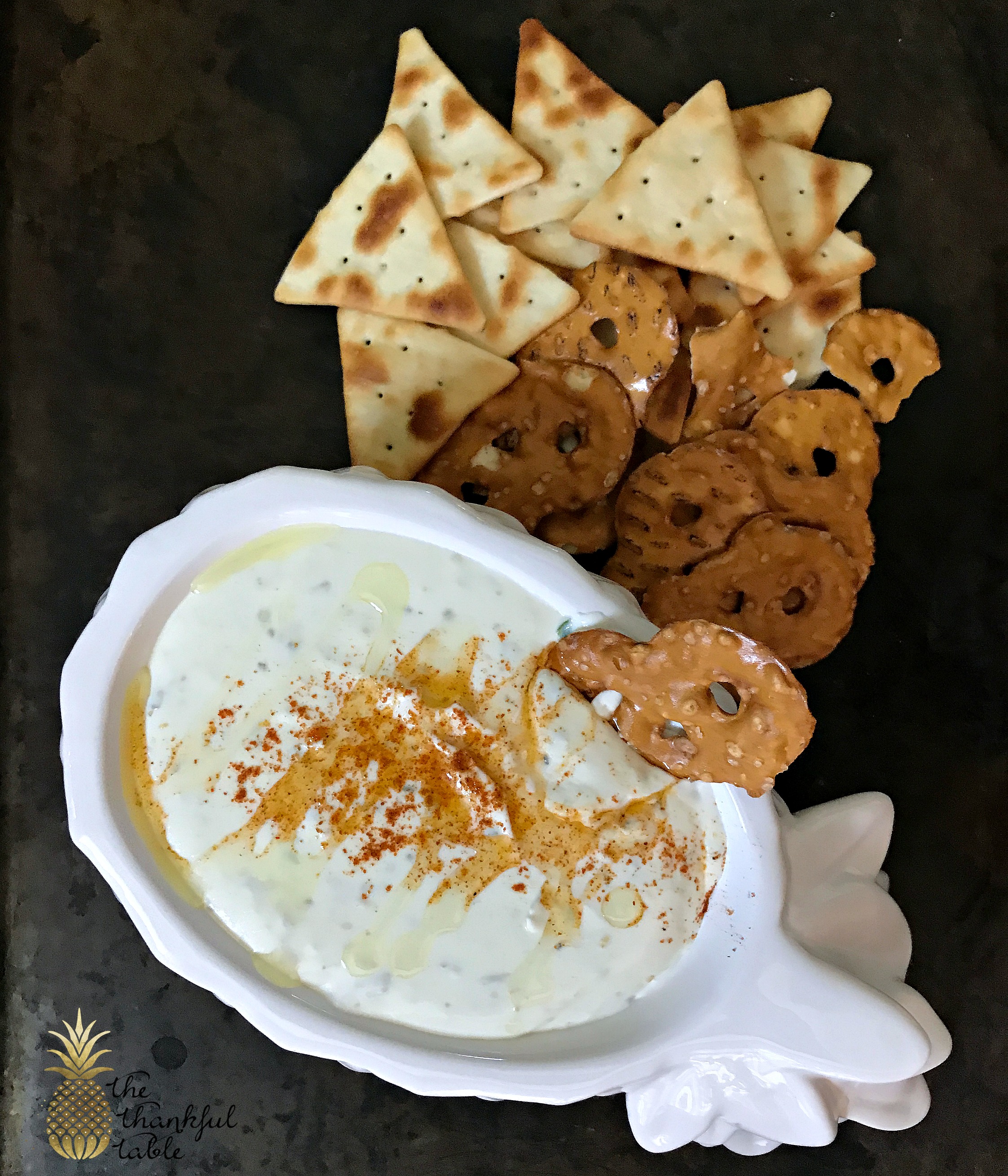 Anytime I can whip up a quick appetizer and have it taste REALLY good, I am one excited blogger. Quick and yummy are two words that get me all sorts of excited. Especially when time is short and I have hungry people to feed. Well, things are slowing down a bit in this household. Our son is all married off so I do not have the busyness of that, but truth be told, I am still in a lot wee bit of mourning over it. We had a glorious 14 months to prepare and in the blink of an eye, it's over and in the midst of all of this we have gained the most amazing, wonderful and beautiful daughter-in-law. So now back to the real world and taking time to devote to my beloved blog. In my few moments of boredom I perused recipes that I can make and enjoy with little effort (we all need that sometimes and it's ok because I say so) and came across a slightly different version of this recipe. After some tweaking I found a happy balance of what I call Whipped Garlic Feta Dip. As always, you can adjust ingredients to your liking. I love eating this with sea salt pita chips (Town House makes a yummy chip) because the dip itself is a little salty and sea salt tends to be less salty in my opinion. Pretzel chips are good also, as well as most veggies. If you are not a fan of feta you probably will not enjoy this dip so much but if you are…well then, let me just say that you will love this! Happy dipping friends!
Sláinte!
6

ounces

crumble feta cheese

4

ounces

Cream Cheese, softened

1-3

Tablespoons

2 % milk

1/4

teaspoon

minced garlic

1/4

teaspoon

black pepper

zest

one small lemon

1/4

teaspoon

cayenne pepper plus more for garnish

1/8

cup

thinly sliced chives

olive oil for garnish

salt to taste
In small food processor add feta cheese and pulse until fine crumbs appear. Add cream cheese and one Tablespoon of milk at a time as needed for creamy texture. Blend until smooth, about 2-3 minutes.

Add garlic, pepper, lemon zest cayenne pepper, chives and salt to taste. Pulse until mixed well, about 20 seconds. Transfer to small serving bowl. Refrigerate for 20-30 minutes. Before serving, drizzle with olive oil and cayenne pepper, if desired.

Serve with pita chips, pretzel chips or vegetables.
Subscribe to Blog via Email
Categories
Recent Posts
Recent Comments
Goodreads