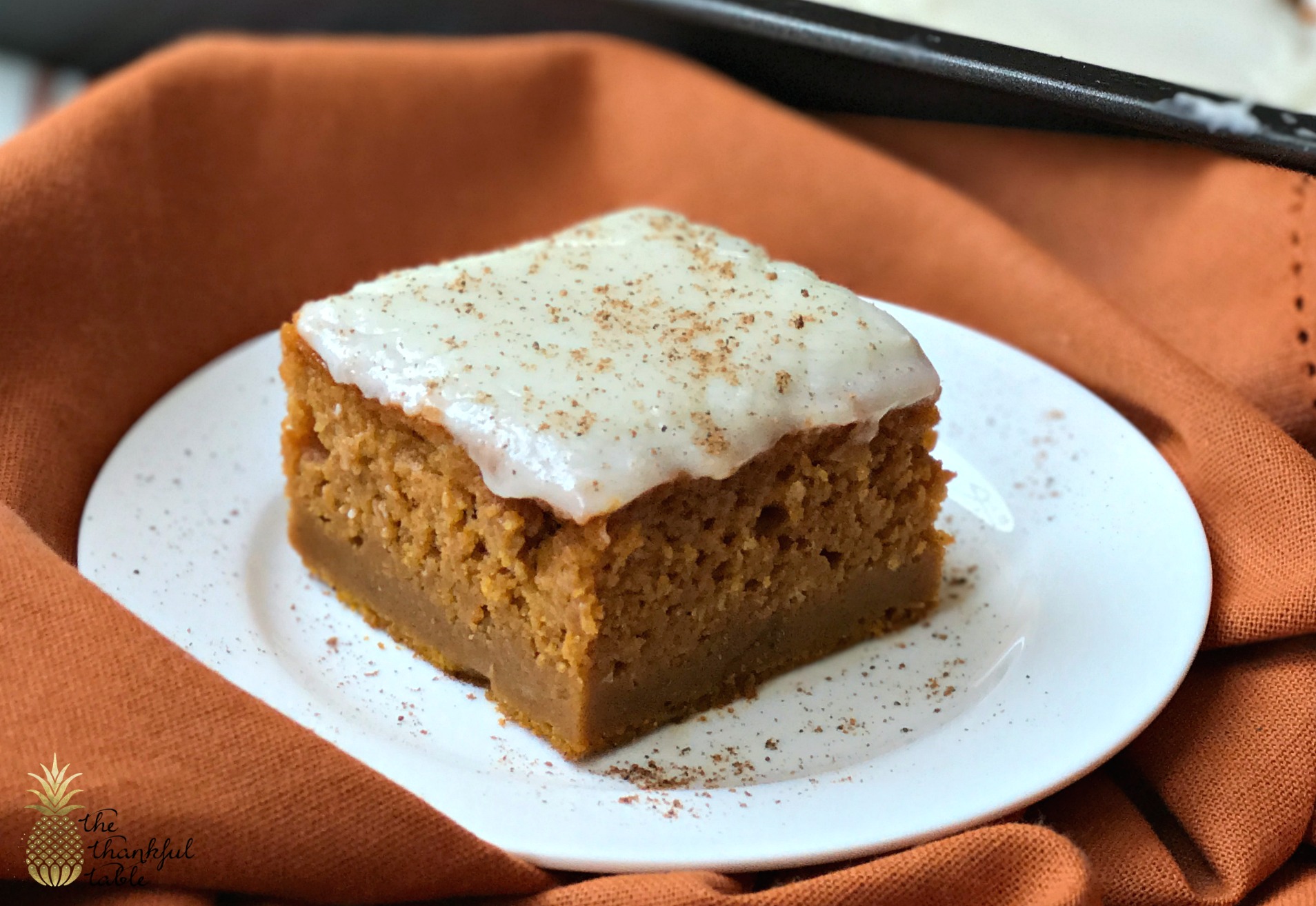 Happy Fall lovelies!  Today is the first day of fall, and let me tell you what…up here in the Mitten state, the weather is ridiculous!  We are getting our very, very, hot humid July weather now. It's just downright miserable (and wrong on  so many levels in my opinion). Don't get me wrong, I LOVE summer…but I also adore fall. And candles. And snuggling up with Joe to a good movie and glass of wine. And sleeping GOOD at night. And leaves falling. The smell of fall just can't compare to any other season. But, here we are, and here we shall stay for the next week (ugh). So, to welcome in the first day of fall, I thought I would do it all proper-like and share a fall desert with you all (though my mind is saying I need to share a light, refreshing summer something-or-other)…AND something totally and completely new to The Thankful Table!! I have always had this urge/obsession to be crafty, though I am FAR from being any kind of expert. My mind likes to get creative and once in a while I break out that creativity and get down with my glue gun. Plus it's therapy for me…my mind can completely check out from whatever stresses/nuisances the day/week/month has brought to me and just create. It brings joy to my soul. New on the blog is a wreath I made for fall, and of course a recipe! It was so much fun!! Aside from the blistering burns on my fingers (worth it though!). I thought it would be fun to mix things up a bit here and do a recipe PLUS share with you my little gem I made (ok, Joe strongly encouraged me to share my creation because he said it was "stunning" and he and our kids are my biggest supporters of all things life/blog-related, and they loved it). He insisted it needed to be featured. And who says The Thankful Table has to only feature recipes? Not this girl. I'm the boss of this blog, so I got bossy and made the executive decision, along with the strong urging of Joe, to share my fall wreath. I hope you enjoy this post (and you will probably be seeing more of my little crafts in the future!)!
I like to bake, but I really love to bake with pumpkin. There are just so many delectable little morsels you can make with it. These Pumpkin Pie Bars are so yummy. They taste pretty much like the real deal, but in bar form. It's pumpkin-y, cinnamon-y (are those words? I say yes, yes they are) flavors with that fabulous cream cheese icing just scream fall. My taste buds are thankful that I grace them with such deliciousness and truth be told, it's the least I can do for them, as they are so good to me. We hope you enjoy these bars as much as we do (and I hope this weather cools down!)! Happy baking!
Sláinte!

Pumpkin Pie Bars are an easy, delicious recipe that is the perfect way to welcome in the new season!
Servings

Prep Time

1

9x13 Pan

10

Minutes
Servings

Prep Time

1

9x13 Pan

10

Minutes
Pumpkin Pie Bars are an easy, delicious recipe that is the perfect way to welcome in the new season!

Servings

Prep Time

1

9x13 Pan

10

Minutes

Servings

Prep Time

1

9x13 Pan

10

Minutes
1

cup

vegetable or canola oil

4

medium

eggs

2

cups

white granulated sugar

2

cups

all purpose flour

1

teaspoon

baking soda

2

teaspoons

baking powder

1/2

teaspoon

salt

2-15

ounce

cans pureed pumpkin (not pumpkin pie filling)

2

teaspoons

cinnamon
8

ounces

light cream cheese, softened

1 1/2

teaspoons

vanilla extract

2

Tablespoons

milk (I used Vitamin D)

4

cups

Powdered Sugar

pinch

nutmeg for garnish (if desired)
Preheat oven to 350 degrees. Spray 9x13 cake pan with cooking spray.

In large bowl, mix vegetable oil, eggs, and sugar together. Then add flour, baking soda, baking powder, salt, pumpkin and cinnamon. Beat well on medium.

Pour mixture into pan and bake 30-40 minutes, depending on how your oven bakes (until toothpick comes out clean).

While bars cool completely, prepare the cream cheese icing. In medium bowl add cream cheese, vanilla and milk. Mix well. Add powdered sugar and mix on low to start with, gradually increasing speed to medium until all ingredients are incorporated.

Spread evenly over bars. Cool in refrigerator for 20 minutes, until icing sets (it will be much thinner than frosting). Cut bars and serve. Store in refrigerator up to one week.
Subscribe to Blog via Email
Categories
Recent Posts
Recent Comments
Goodreads