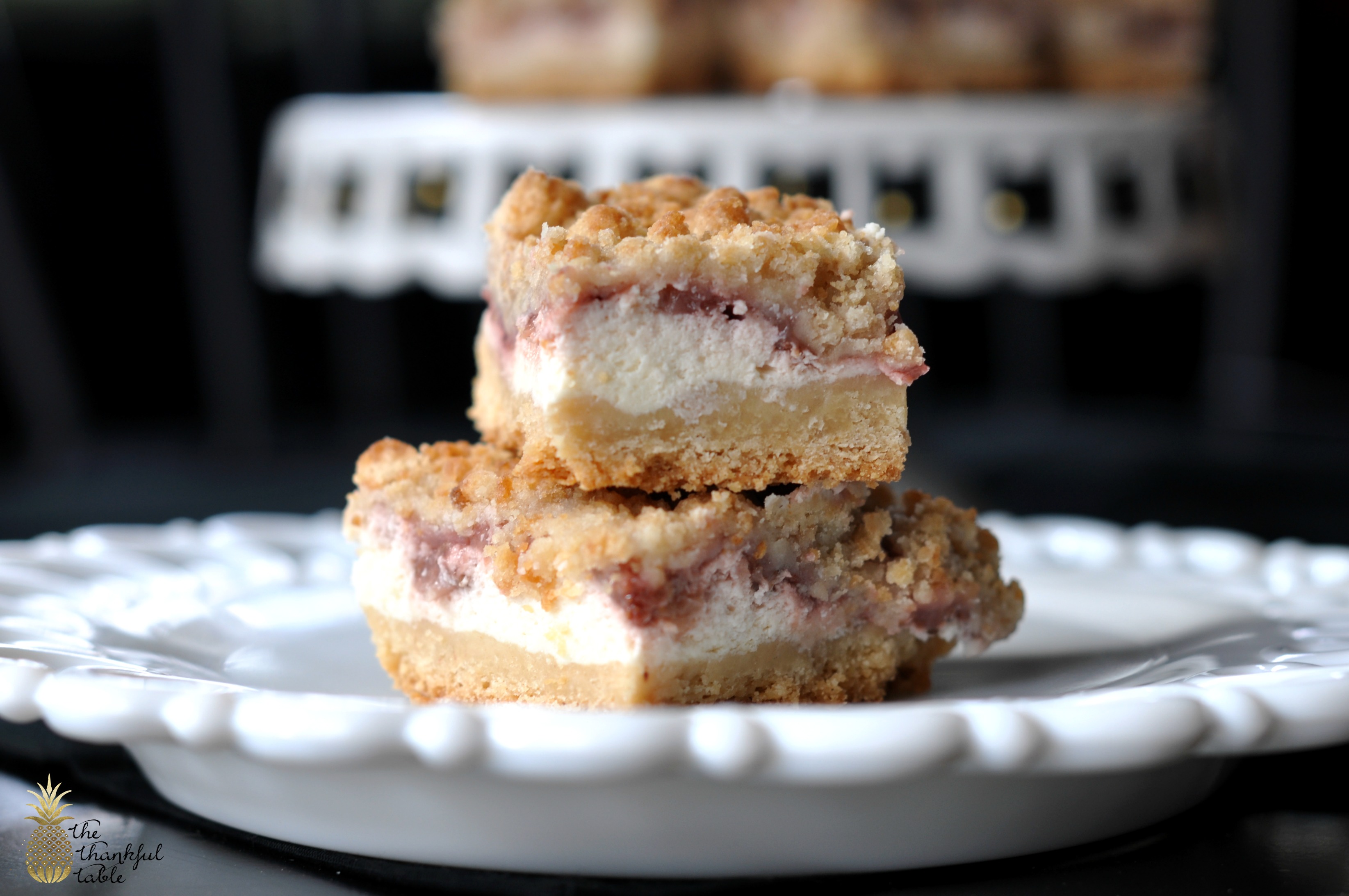 Life in our house has been upside down lately. I was hoping after the holidays things would quiet down a bit. They have to a certain extent in some small ways, but in other ways it has been a rollercoaster. I was hoping I would have more time for a lot of things, but mostly more time to devote to my first love (outside of my family of course!), which is blogging. This "teeny~tiny~almost~unknown~to~most~people" piece of my heart just brings joy to me in so many ways. There are some big changes on the horizon for our family and, hopefully through all of that, I just may have more time to do what I truly enjoy.
Through chaos, hectic schedules, ups and downs and big decisions that need to be made, dessert can be a comforting friend to help ease the busyness of ones' mind and, why is that you ask? I just do not know. The heart wants what the heart wants. So I will embrace what my heart is telling me, and it's telling me that I need Strawberry Cheesecake Bars at this particular moment in my life.
Strawberries and cheesecake~quite possibly the most perfect combination of two things I love. Everything that has anything to do with cheesecake is just fine with me. There are so many things you can do to switch it up a bit. There are also many types of cheesecake~from light and fluffy, to super tall and dense (New York~the best EVER). My preference is the latter with a light strawberry sauce drizzled on top. No whip, just sauce. When I can put my all~time favorite dessert into a bar, that just makes my heart happy. These bars are awesome because one~they are so much easier to make than a regular cheesecake and two~ it's easier to control the serving size. This dessert is a compilation of ideas my brain came up with and a few things here and there from old recipes, and I had some frozen strawberries I needed to use up~so my brain went into "recipe creation overload". There are a few steps to it, but while the crust is baking, you can make the strawberry sauce and filling which makes prep time much quicker!
This isn't super dense like a New York style cheesecake which makes it a perfect little "something sweet" to have on the weekend or after dinner (or, like today, after lunch) or serve at get~togethers. I have also lightened it up just a bit by using both light cream cheese and light sour cream so it doesn't sit too heavy. All of this goodness is nestled between a buttery crumb topping and shortbread crust, the best of both worlds!
Sláinte!
1

cup

unsalted butter

(softened)

1/2

cup

brown sugar

1/2

teaspoon

salt

2

cups

all purpose flour
4

cups

frozen strawberries

(thawed, may substitute fresh)

1/2

cup

white sugar

1

teaspoon

Lemon Juice

4

teaspoons

corn starch
16

ounces

light cream cheese

(softened, can substitute regular)

1/4

cup

light sour cream

(can substitute regular)

1/4

cup

white sugar

2

eggs

1

teaspoon

vanilla
1/3

cup

brown sugar

1/3

cup

white sugar

1/2

teaspoon

salt

1/2

cup

melted unsalted butter

(cooled slightly)

1 1/2

cups

all purpose flour
For the crust, preheat oven to 350 degrees. Line 9x13 baking pan with foil and lightly coat with cooking spray.

In medium bowl, beat butter on high speed until it softens, approximately 45 seconds. Add brown sugar and salt and beat on low speed until just combined. Add flour and beat on low until dough just comes together. Press dough into prepared baking pan with fingers until dough covers all corners. Bake until lightly golden brown and slightly puffed, about 20 minutes. Remove from oven and let cool for 5 minutes.
While crust is baking, in small bowl chop strawberries into small pieces or lightly mash with potato masher. Add sugar, lemon juice and corn starch. Set aside and prepare filling.
In large bowl beat cream cheese and sour cream on high until no lumps remain. Add sugar and beat an additional 30 seconds. Add eggs and vanilla and beat until smooth and completely combined. Set aside.
In medium bowl whisk sugars and salt until mixed. Add cooled butter and whisk well. Add flour and mix with fork until small crumbs form.
Spoon filling onto cooled crust and spread evenly in pan. With slotted spoon add dollops of strawberry sauce (drain most of the liquid out) and slightly swirl with knife to cover filling as much as possible. With fingers, sprinkle crumb topping over strawberry sauce. Bake at 350 degrees for 40-50 minutes, until center is almost set. Remove from oven and let cool completely.

Enjoy at room temp or chilled. Can be stored in refrigerator up to a week.
Subscribe to Blog via Email
Categories
Recent Posts
Recent Comments
Goodreads