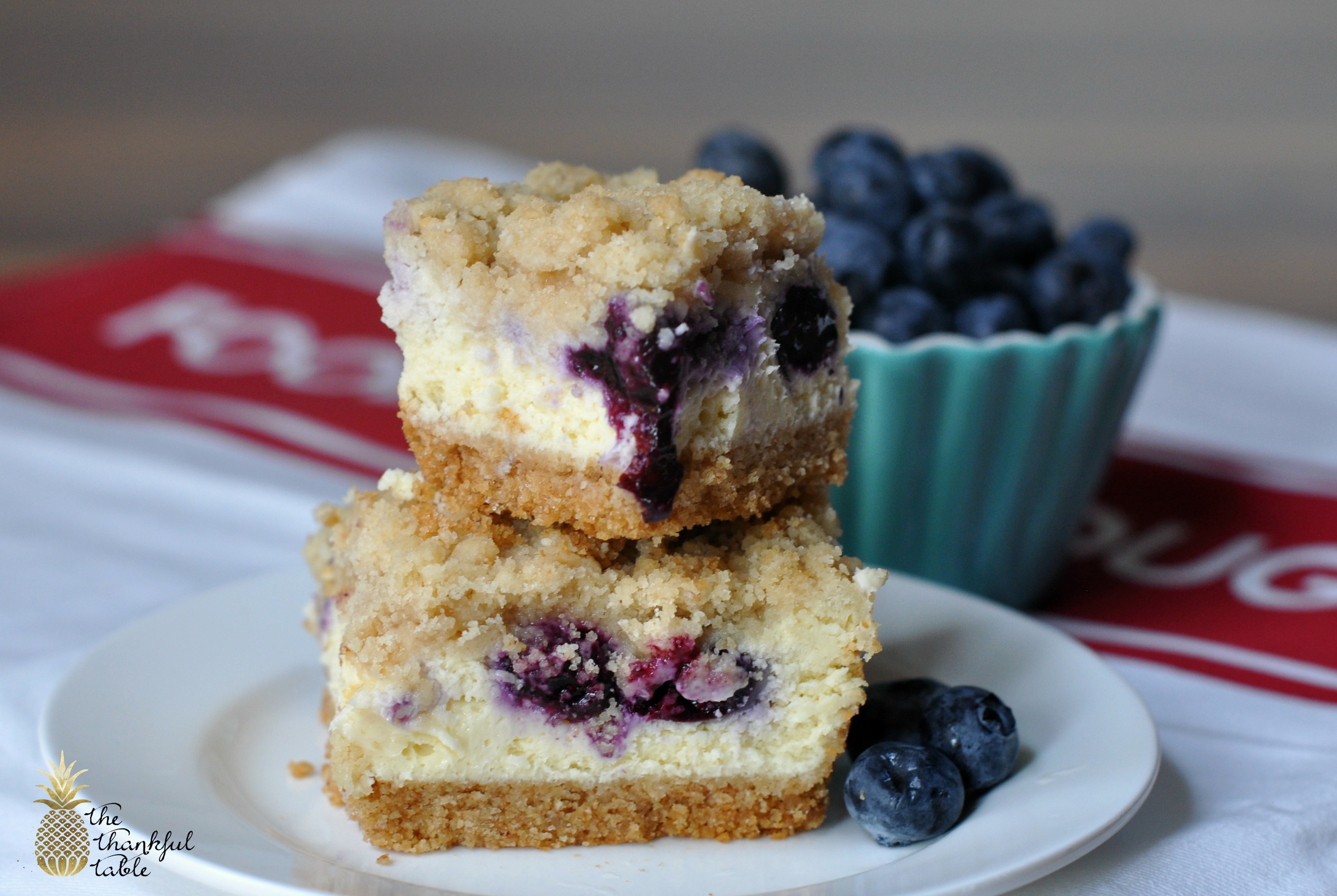 Boy oh boy…put anything together with my beloved cheesecake and you will have one very happy blogging gal! I have professed my love for it on more than one occasion, and it's perfect in its plain, simple form. But toss in some sweet, juicy blueberries AND top it off with a sweet buttery crumble? Perfecto! This is so darned good that I can't keep this recipe all to myself. I'm a sharer and share I will. I had to break down and buy my blueberries from the grocery store (ugh!) instead of picking them myself. Shameful, I know. I just did not make that a priority this year. So, yes, I paid A LOT for them but I am completely ok with that. More often than not I make desserts in a 9×13 pan because we are dessert lovers and anything smaller won't last but a couple of hours…at most, however our dessert-lover-sweet-tooth-boy-to-the-extreme Joj and his soon-to-be-Mrs. bought their first house so there is just Joe, myself and our 6'4″ baby, Ty left at home so this 8×8 size is perfect for us three. Plus Joj and Kayla are fitness fanatics so I try to behave and not drop off naughty treats for them very often. And if I make a 9×13 pan of cheesecake anything, you can bet I'll be picking at it non-stop (and feel nary an ounce of guilt)…after Joj and Kayla's wedding on August 19 however, all bets are off for this girl. I may even make a very large pan of some deliciousness and not be the good sharer that I claim to be. The creamy, sweet, tangy cheesecake with sweet juicy blueberries topped off with a beautiful golden brown crumble bring this dessert together beautifully. So give it a whirl and let us know how you like it!
Sláinte!
Servings

Prep Time

1

8x8 Pan

20

Minutes
Servings

Prep Time

1

8x8 Pan

20

Minutes
Servings

Prep Time

1

8x8 Pan

20

Minutes

Servings

Prep Time

1

8x8 Pan

20

Minutes
9

sleeves

graham crackers (one pkg)

2

Tbs

granulated sugar

4

Tbs

unsalted butter, melted
1

cup

fresh blueberries

2

teaspoons

sugar

2

teaspoons

all purpose flour

1

Tbs

Lemon Juice
1

cup

all purpose flour

1/4

cup

brown sugar

1/4

cup

granulated sugar

7

Tbs

cold butter, cubed
12

ounces

light cream cheese, room temp.

1/2

cup

plain fat~free greek yogurt

1/2

cup

granulated sugar

1 1/2

teaspoons

vanilla extract

1/2

teaspoon

salt

2

eggs
Preheat oven to 325 degrees. Line an 8x8 pan with foil, lightly sprayed with cooking spray.

In small food processor pulse graham cracker crumbs until finely crushed, or you can use a gallon-sized storage bag and rolling pin. In small bowl add graham cracker crumbs, sugar and butter and mix with fork. Spread into pan and lightly press with fingers or measuring cup. Bake for 10 minutes, and cool slightly.

While crust is cooling, in a small bowl combine blueberries, sugar, flour and lemon juice and mix lightly. Set aside.

For crumble topping, in medium bowl combine flour, brown sugar, granulated sugar. Cut cold butter with pastry blender or two forks until small lumps remain.

For cheesecake filling, in large mixing bowl with hand mixer on medium beat together cream cheese, greek yogurt and sugar until smooth. Add vanilla and salt, mix. Add eggs one at a time, beating well after each addition.

Pour cheesecake batter over crust and smooth to the edges. Slowly sprinkle blueberries on top of batter, covering evenly. Top with crumble and bake 40-50 minutes, until crumble has browned lightly and toothpick in center comes out clean.

Cool for 1 hour or until it reaches room temperature. Chill in refrigerator for 2-4 hours, remove from pan and cut into bars.
Subscribe to Blog via Email
Categories
Recent Posts
Recent Comments
Goodreads